Remember this little guy?
Well, here he is along with a picture of my favorite little guy right before his first haircut. :D I stamped the frame with the tail feathers from the bird stamp in the January kit and then painted over it with Making Memories paint. I used the same paint for the owls feathers and some cream paint for his eyes and chest feathers. The journaling lines were stamped with a Rusty Pickle stamp and then matted with paper from the kit. The leaf accent was cut out and pop-dotted for a little more dimension. :D
Journaling reads, "It was really hard for me to take you in to get your first hair cut. I kept putting it off and putting it off and putting it off. I've loved every stage you've gone through so far and while I am looking forward to watching you grow up…I'm in no hurry. So, I was very glad to get this last look at my baby."
Here is little man doing his baby yoga. I wrote the journaling on there in the vanishing ink pen from American Crafts and I took the picture before I re-wrote it. It's on the green cardstock and follows the line of the bottom the patterned paper. It says, "Yoga babies are known by their need to crawl out of their pants in order to perform the more advanced baby yoga moves."
(I still have a hard time keeping pants on my skinny little guy! He just walks out of them now!)
And, the last layout I made with the Grande 1/2 Sweet kit from Fresh Pages is called Apple Jacker. I ran out of L's and so had to improvise with a couple of I's. The leaf is actually part of the photo mat patterned paper. I just cut around it to make the mat and then cut around the inside to slip my photo under.
The journaling reads, "I only set it down for a minute and yet, when I turned back around this was the sight that greeted me, Mickey chomping away at my apple! I figured he wouldn't go for it because before this he'd only had sliced apples. But now, no apple is safe from the clutches of Mickey Hettwer, Apple Jacker extraordinaire!"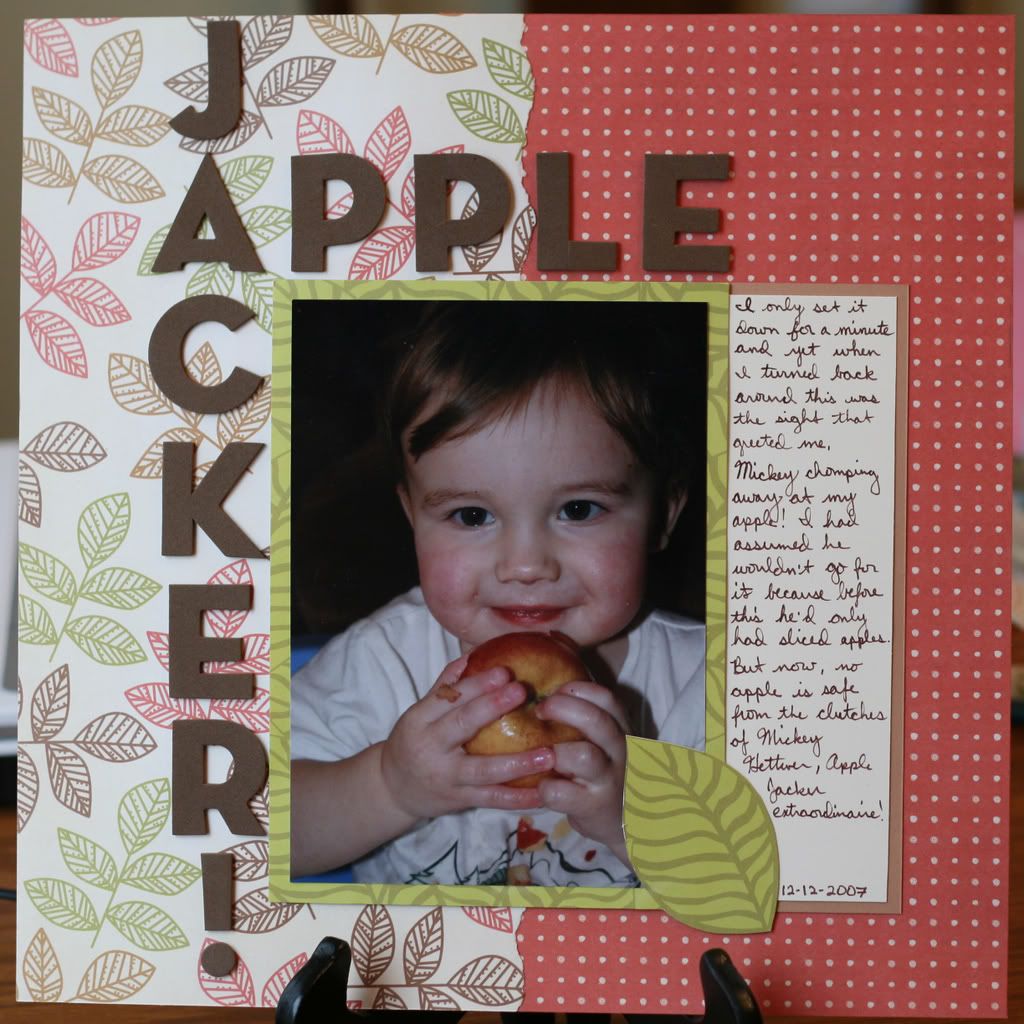 I made this little card as a thank you for future Mickey babysitters. (The fam loves getting cards with his picture on them!) :D The dots are actually the punctuation from the set of brown Thickers painted with my new Tim Holtz paint. Love that stuff!!!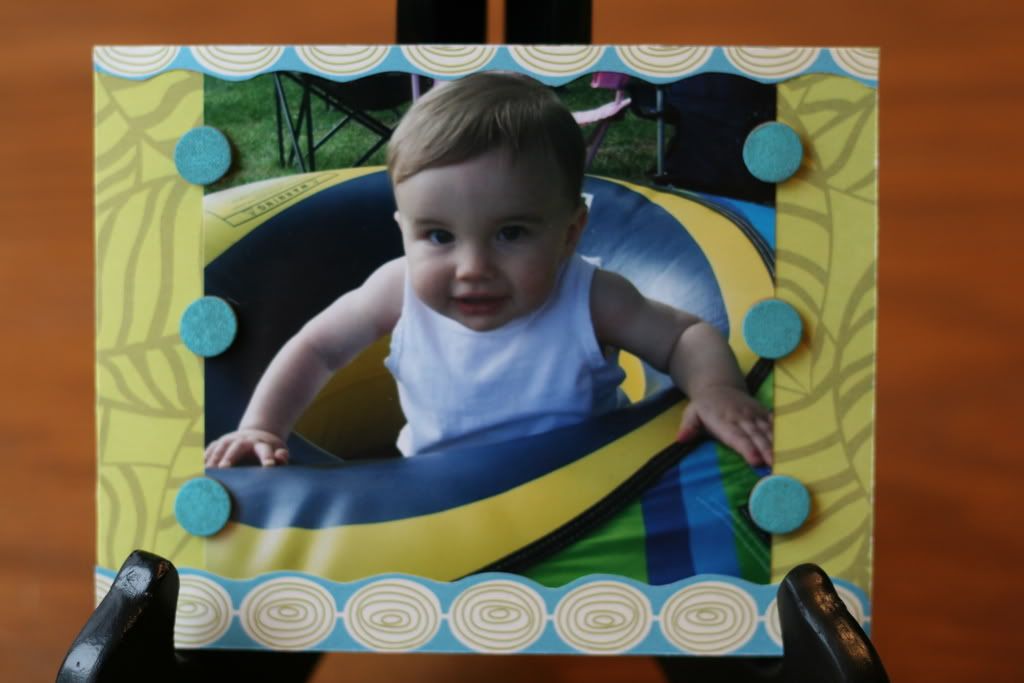 And, I really like making my cards orient this way. Just a little more fun! :D
Finally, I altered this little notebook with the Love, Elsie fabric paper in the kit. I'd never actually played with it before and it's pretty darn cool! :D I painted the Thickers with same Tim Holtz paint as the card and backed them with yellow cardstock to matche the elastic band that holds the book closed.
The paper inside is super thick and the post comes unscrewed so I can add more if I need to.
Here's what it looked like before I altered it.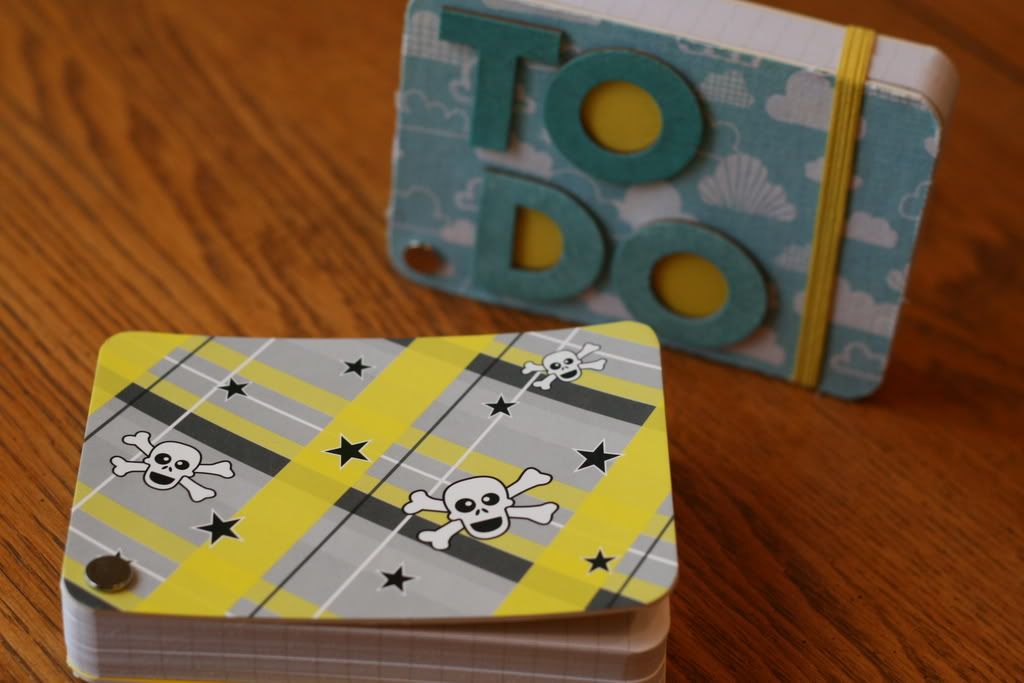 (This would be why I got it for about a buck on clearance at Fred Meyer! LOL!)