This tutorial is my favorite one sheet mini book. It was promised to my croppin' buddies from CKMB-sorry it took so long, girls and I hope you had a blast Saturday!!! So, without further ado, here we go!!!
Goodies you'll need:
~one sheet of 12"x12" cardstock (hence the name)
~scraps of patterned paper at least 3"x3", you'll need between 12-14
~ribbon, about 20"
Oh, and your scrapbooking arsenal (scissors, trimmer, exacto, adhesive, etc).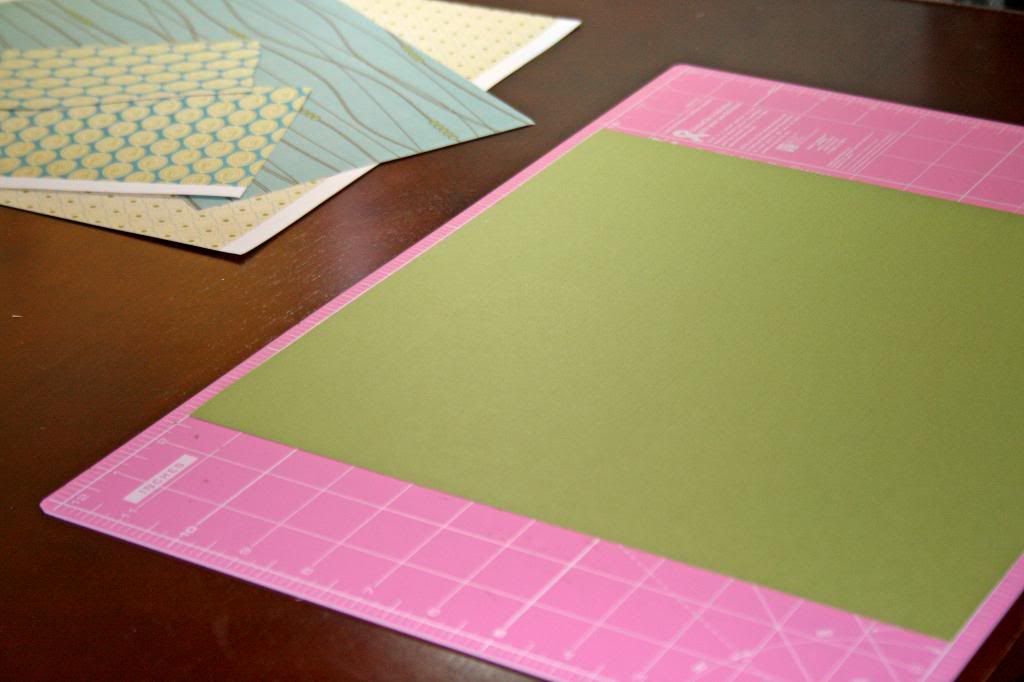 We start with a lot of folding. Step one: Fold your cardstock in half. Then, unfold.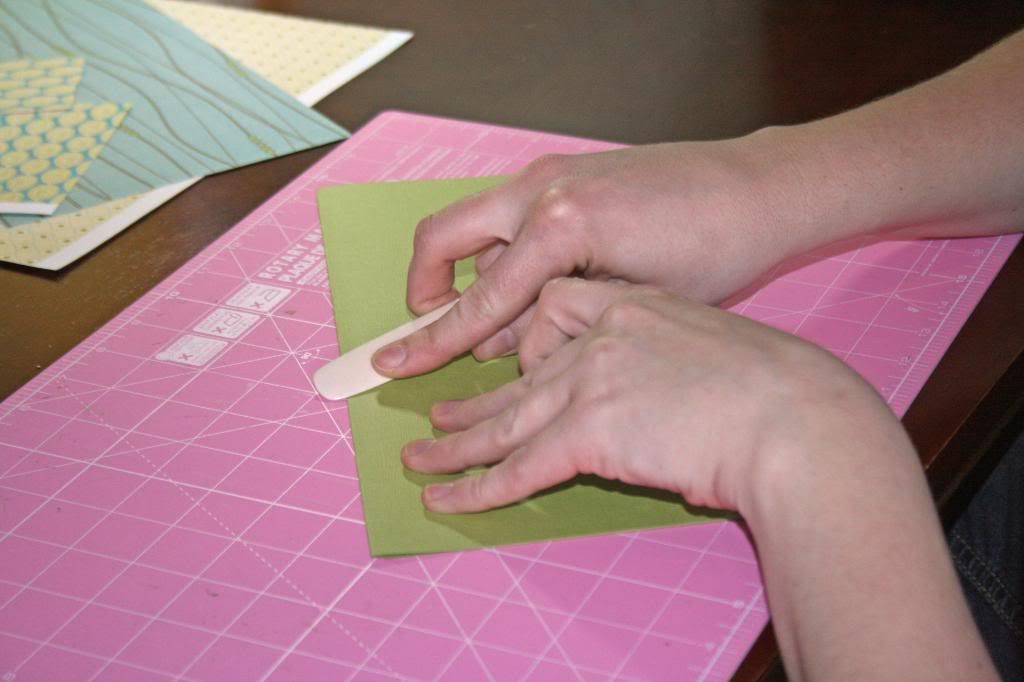 Step two: Fold the edge of the cardstock into the middle. Repeat with the other side. Then, unfold.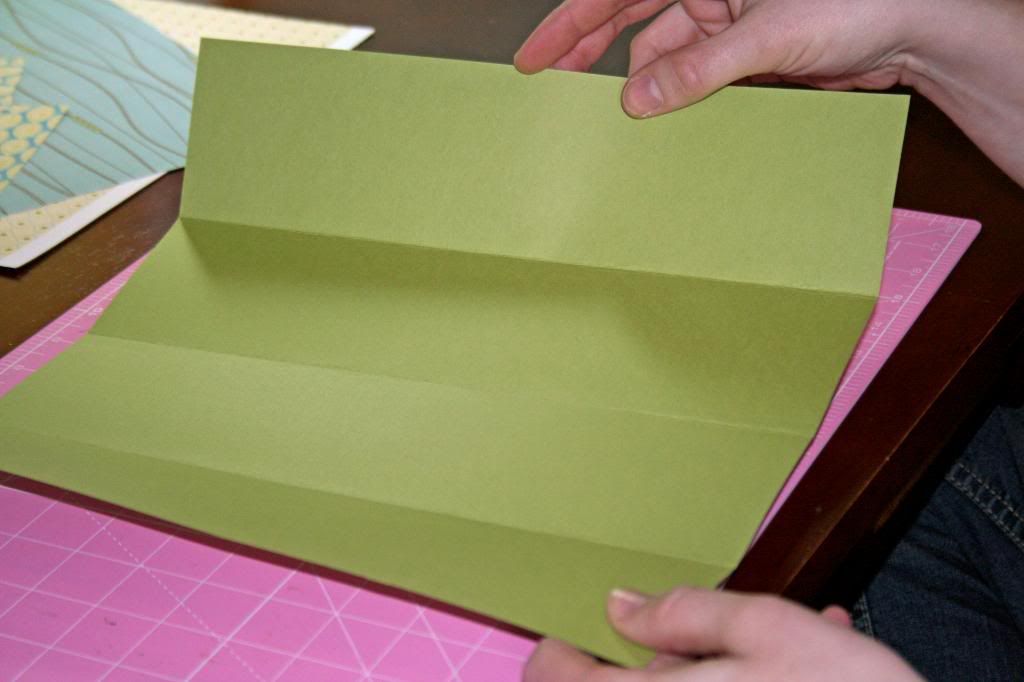 Turn your cardstock 90 degrees and repeat steps one and two.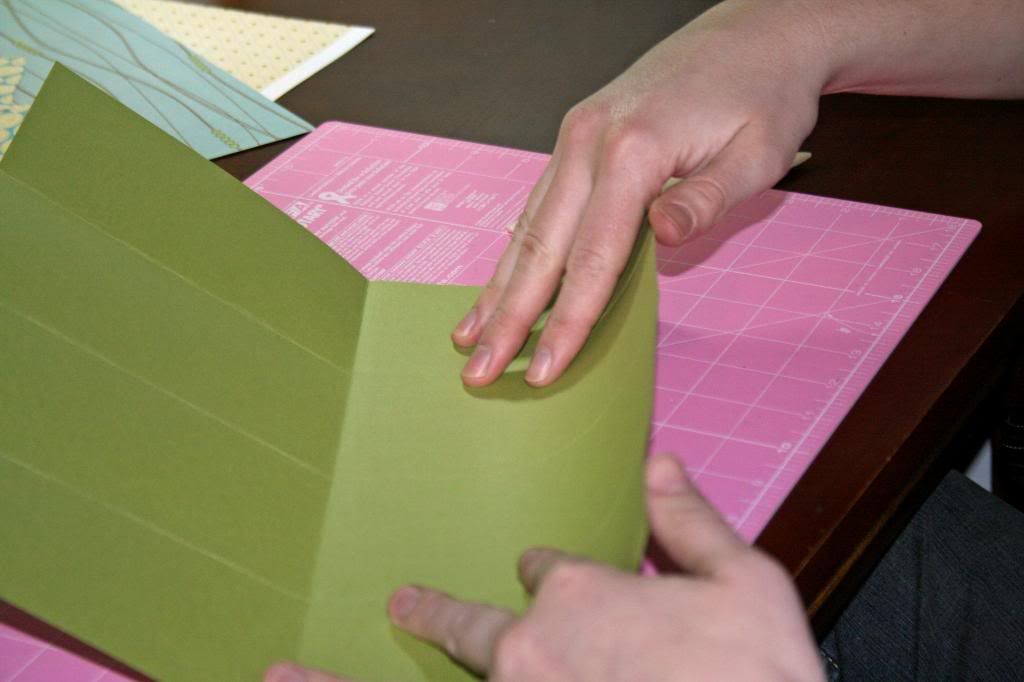 When you're done, you should have created a grid on your cardstock, like this.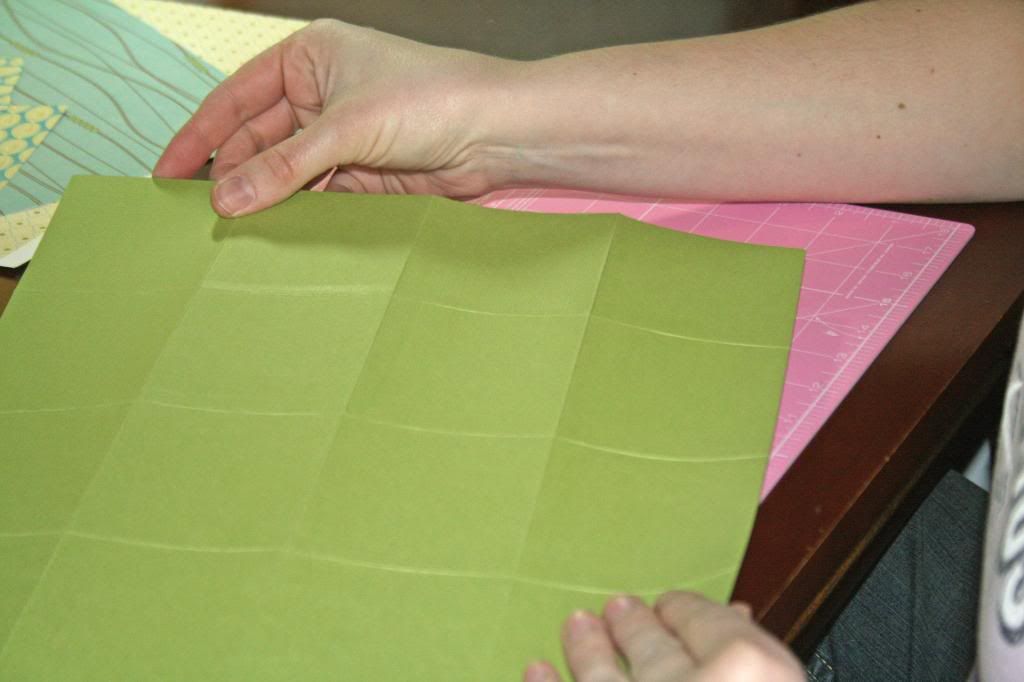 If you're not a huge fan of folding, or you have a bunch of these to make, you can use the scoring blade on your trimmer or a ruler and your bone folder. Just score at 3", 6" and 9". Rotate, and score at 3,6 and 9 again.
Now, we'll do some cutting and a little more folding. Stay with me.
We're going to used the grid lines as a guide for our cutting. Start at the bottom and cut the middle fold three-quarters of the way towards the top. Since we've got all those other handy-dandy perpendicular folds it's easy to do without measuring. Simply start at one end, go through two folds and stop at the third.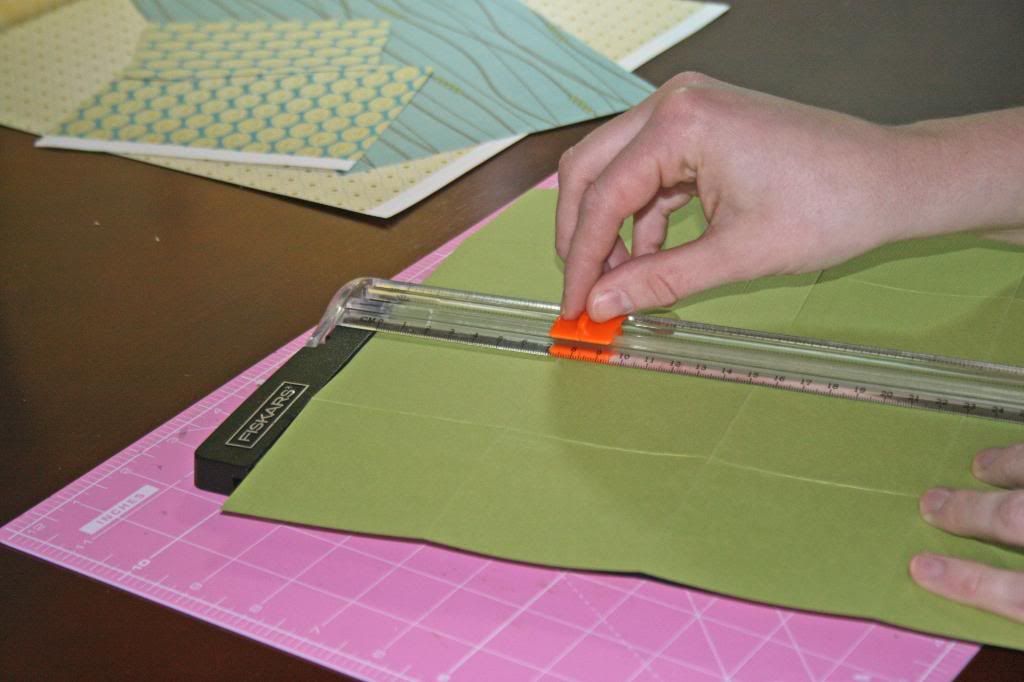 Now, it gets a little tricky. Starting at the top cut one of the two folds that parallels the one you just cut and cut it three-quarters of the way down. Then, do the same to the fold on the other side of the center cut.
It should look like this.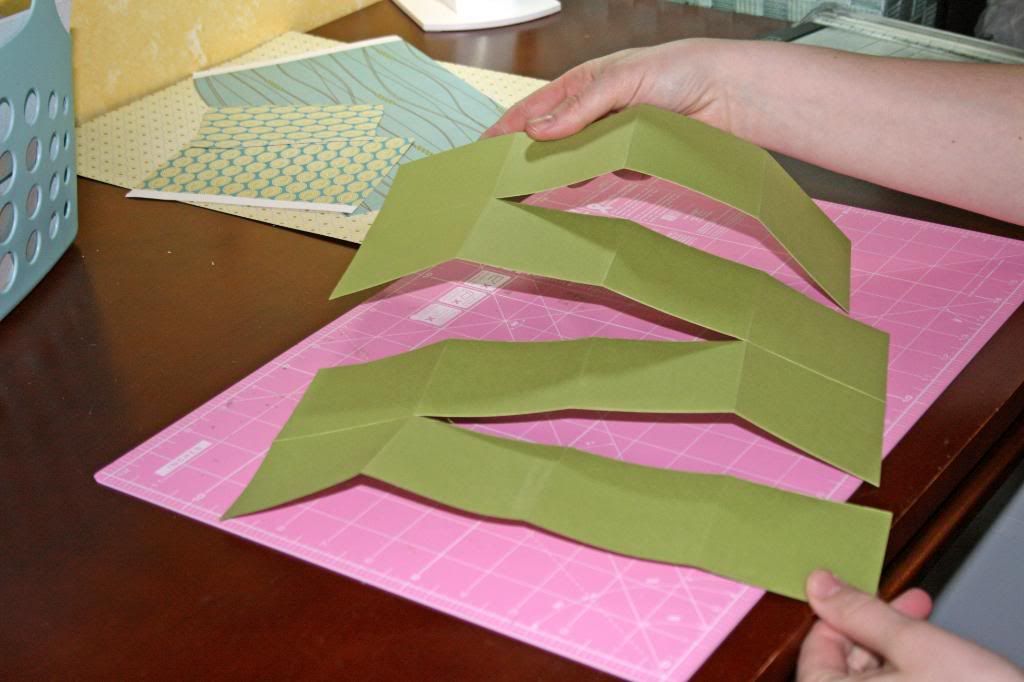 If it doesn't, don't tell anyone and start over. I promise, I won't say a word. :D
Now it's time for a little more folding. Starting at one end, fold one square onto the next. If you have textured cardstock, the texture should be on the inside for the first fold.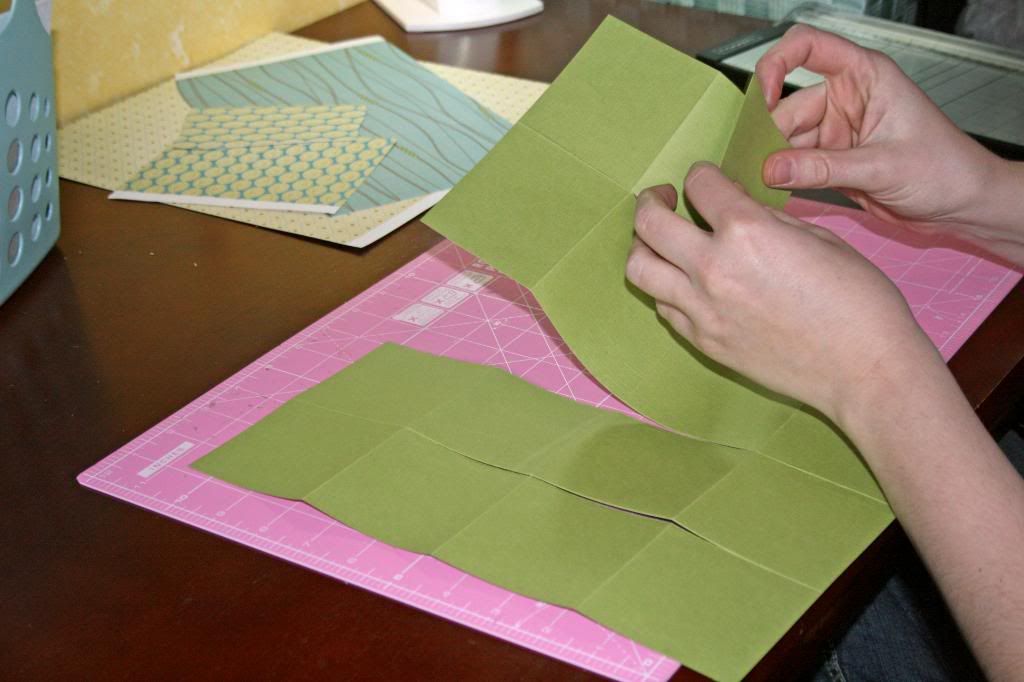 Then, keep on folding accordion style on every score line.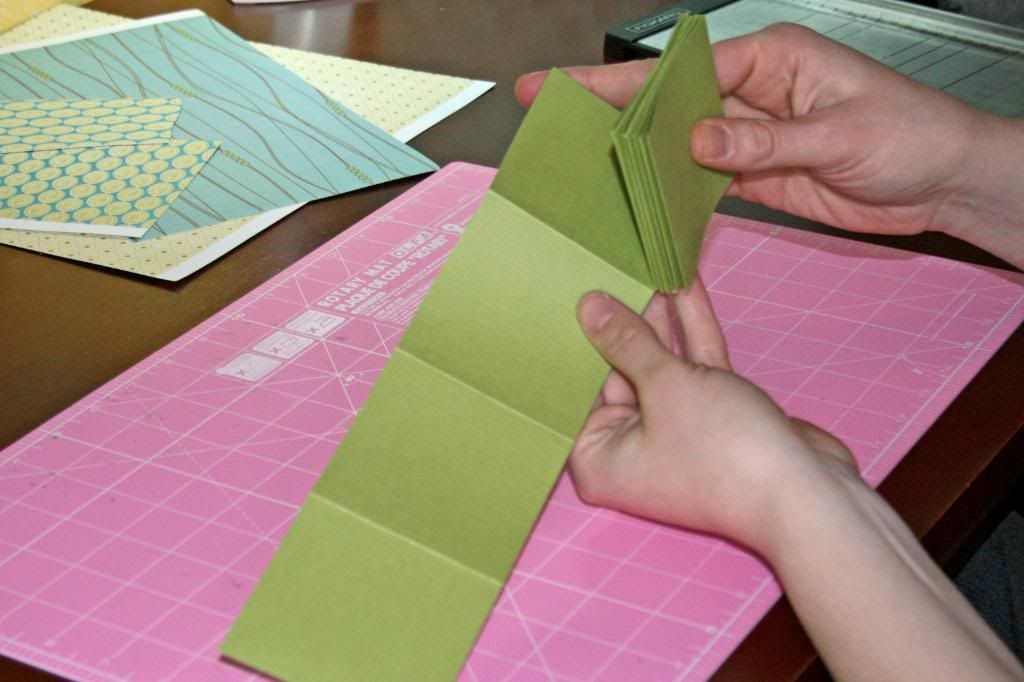 When you are done, it should look like this.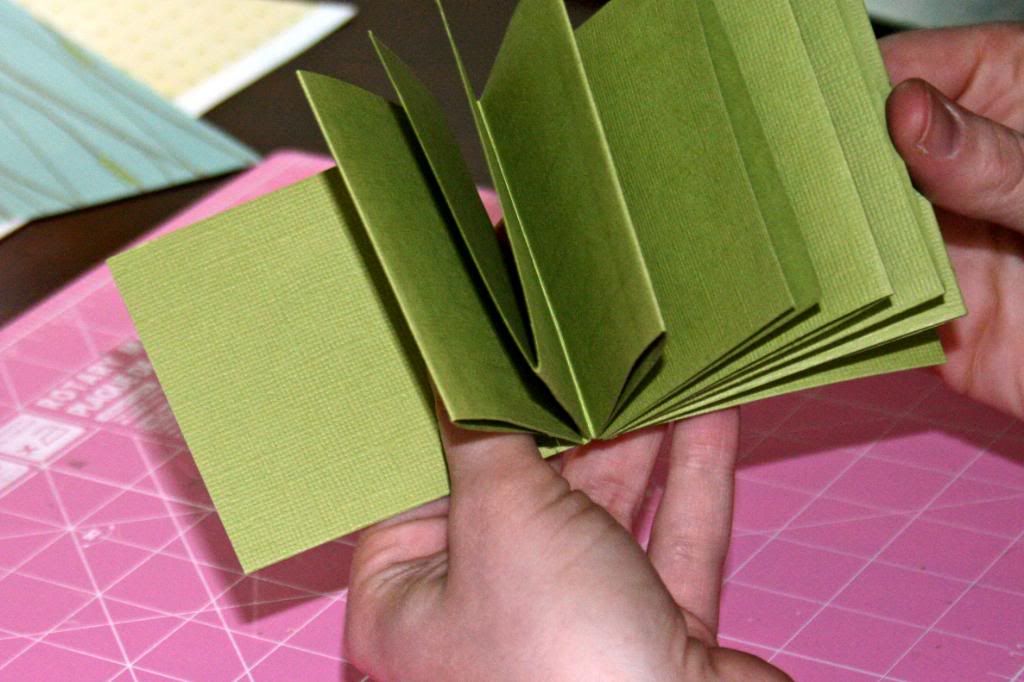 Unfold the first and last squares and cut all but 1/2" off of them. They will end up being the spine of your book.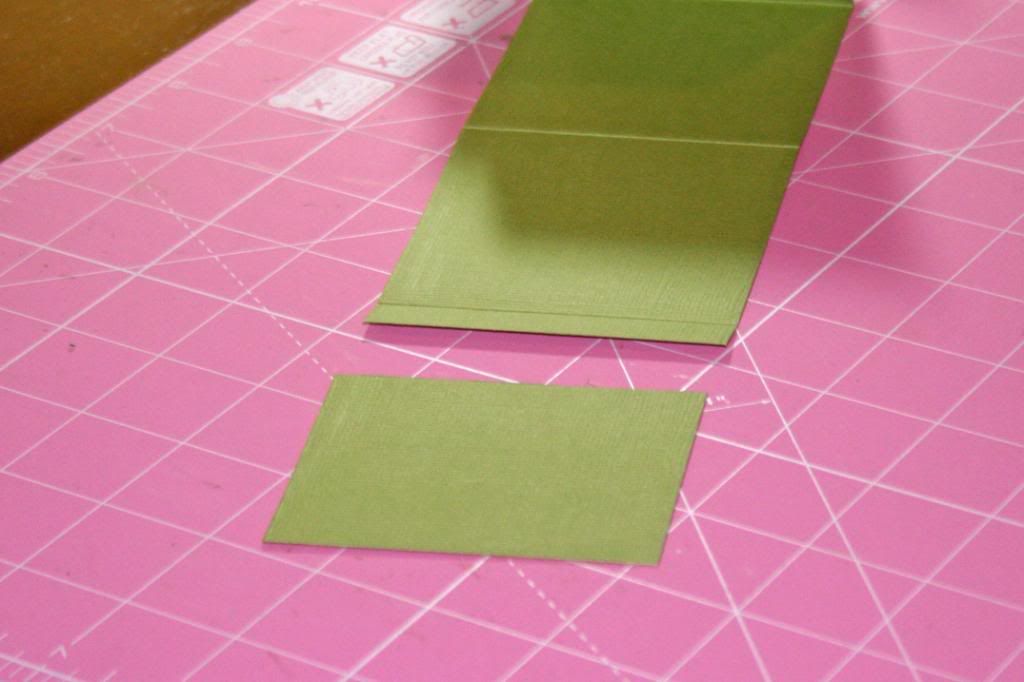 Now dig out your adhesive (every time I hear or say this word I hear Robin Williams saying it in Mrs. Doubtfire, can't get it out of my head), I used a tape runner for this part.
Do not glue the first two squares together (like I did) or you will end up having to gently pry them apart (like I did). Starting with squares number 3 and 4, glue the insides (non-textured sides) together. Or, if you are using non-textured cardstock, glue 3 & 4, 5 & 6, 7 & 8, and so on. You will want to leave the last two squares unglued as well.
Tip~we are not counting the 1/2" ends as squares. :D

Now dig out that ribbon. I try to use a ribbon that is the same on both sides for this since we will be using it to close the book. Measure your ribbon and then cut a slit in the middle of the score line between the 1/2" piece and the first square. Do the same on the other end of the book.
It should look like this.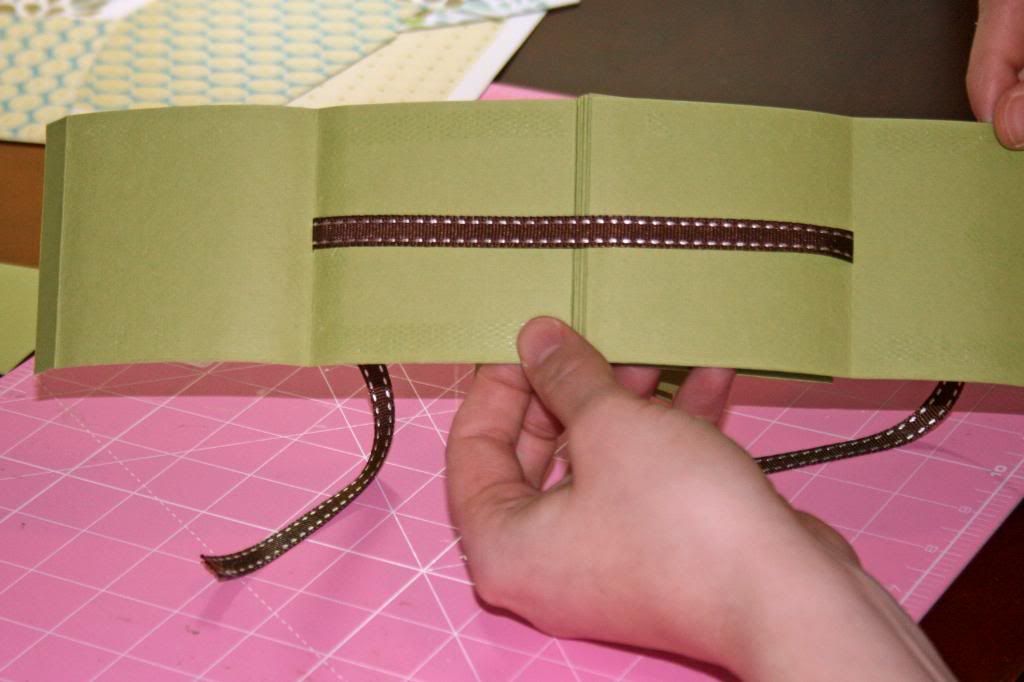 Get the ribbon lying all flat and nice and then glue pages 1 & 2 together and do the same on the other side.
Almost there.

Cover the insides of both 1/2" flaps with adhesive. I used double-sided tape on mine so that I could trim the flaps without getting adhesive on my scissors.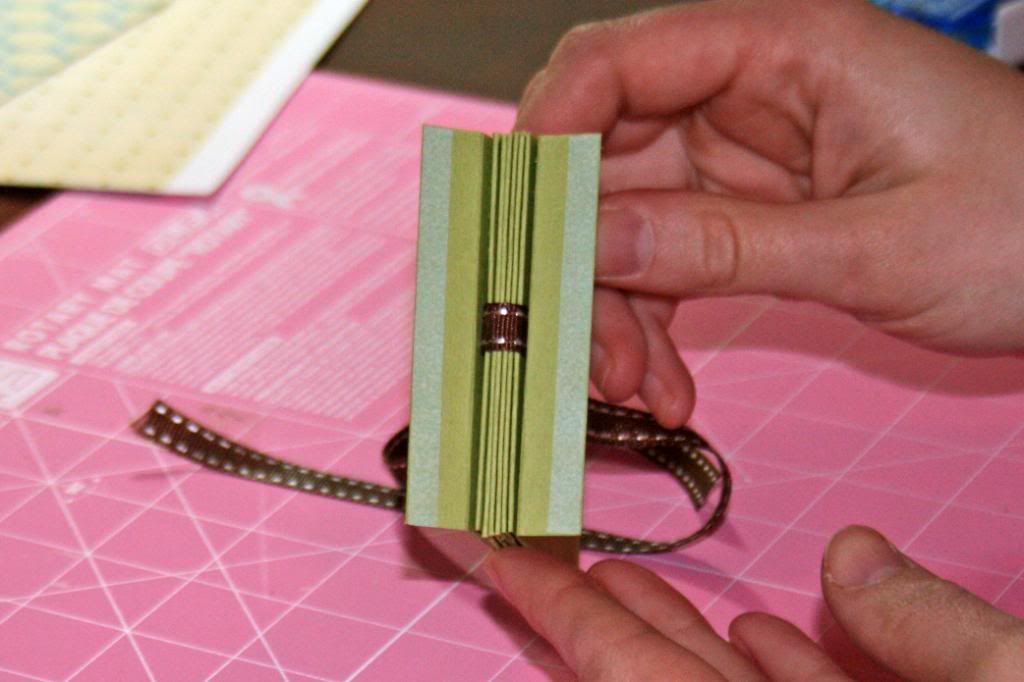 You'll want to decide now which side will be the front and which side will be the back. Fold the back cover strip over the spine and trim off the excess. You want it to be just a little shorter then the width of your book so that the front flap can fold over it. Now for the front flap. Peel off the protective strip of the tape and then fold the flap over the spine.
Trim off the excess, I used an Exacto knife for this.
Almost done.
Now, take your patterned paper scraps and cut them down to 2 3/4" squares. I rounded the corners of mine.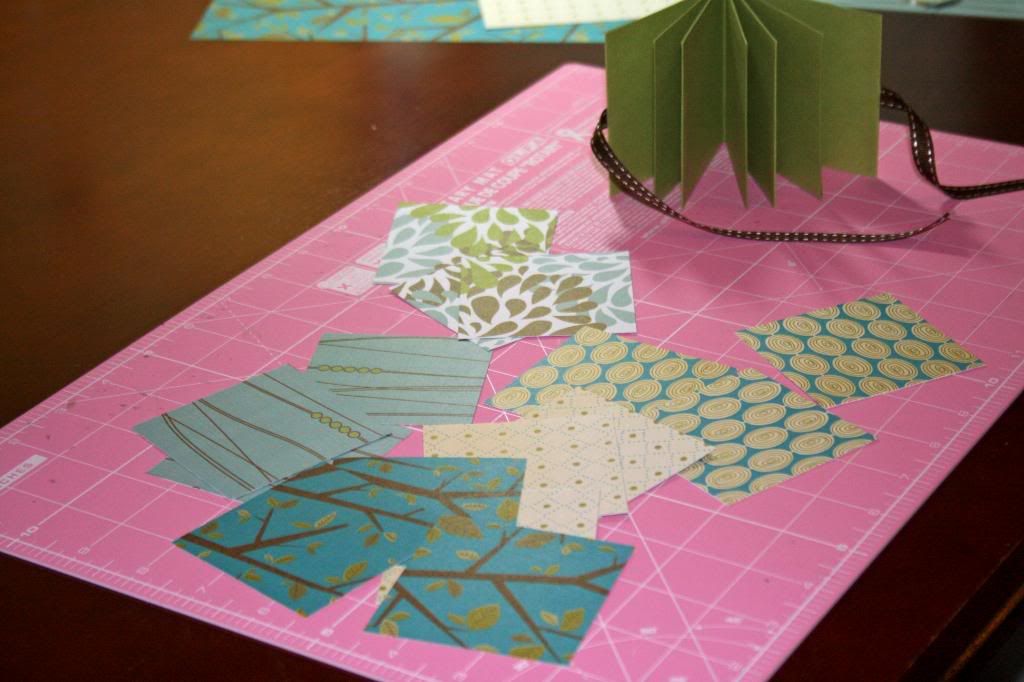 Glue those bad boys down to the pages of your book and you are done! Your book is ready for you to personalize and make your own!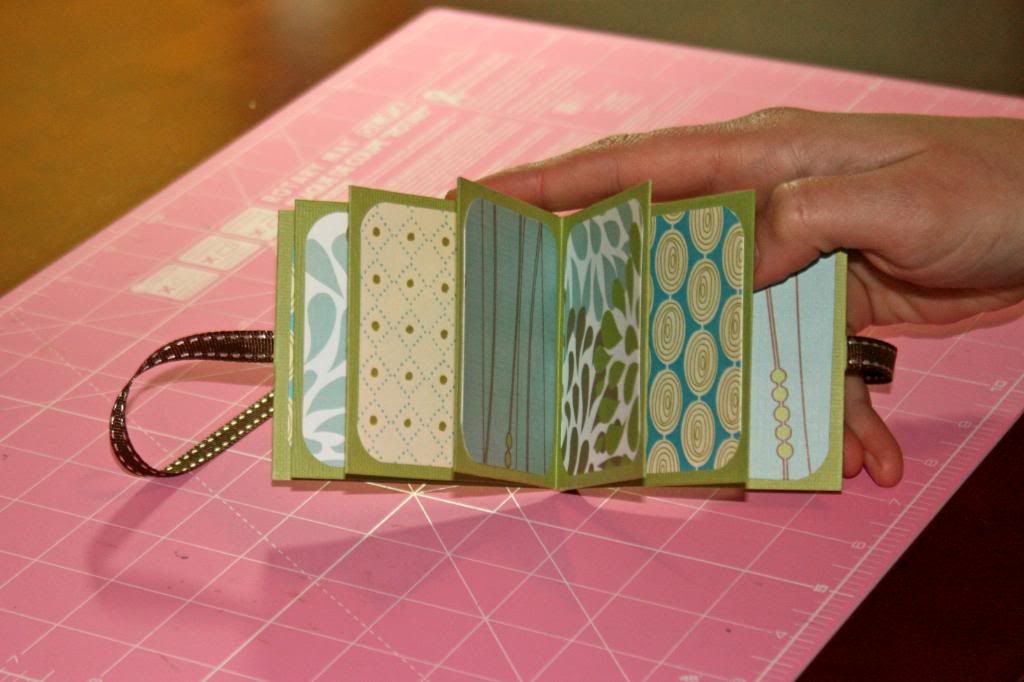 Here are a couple that I've made.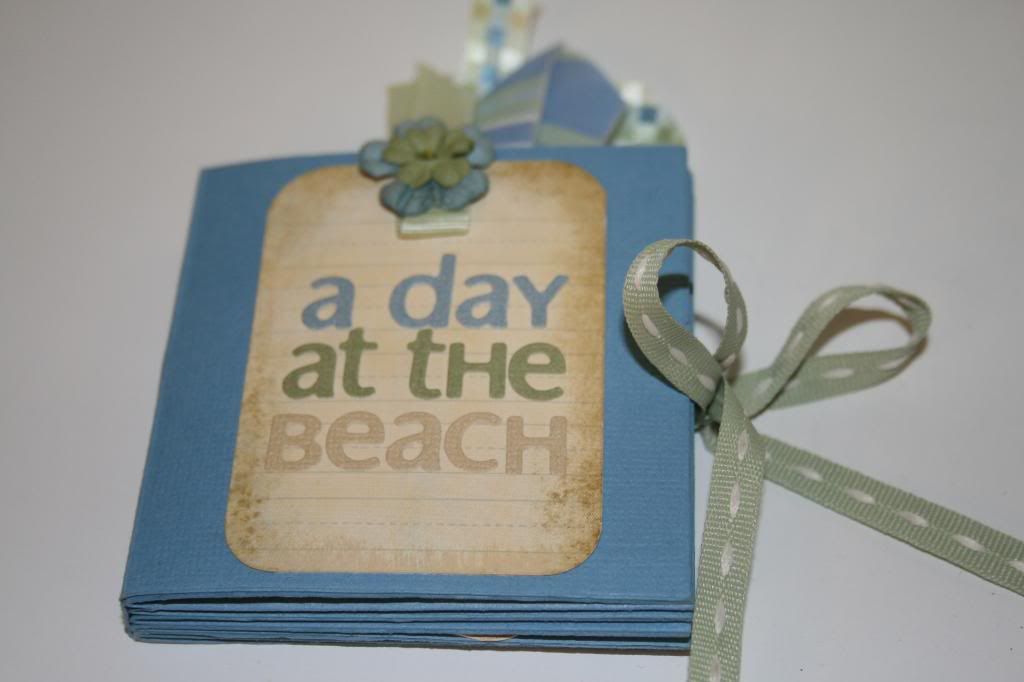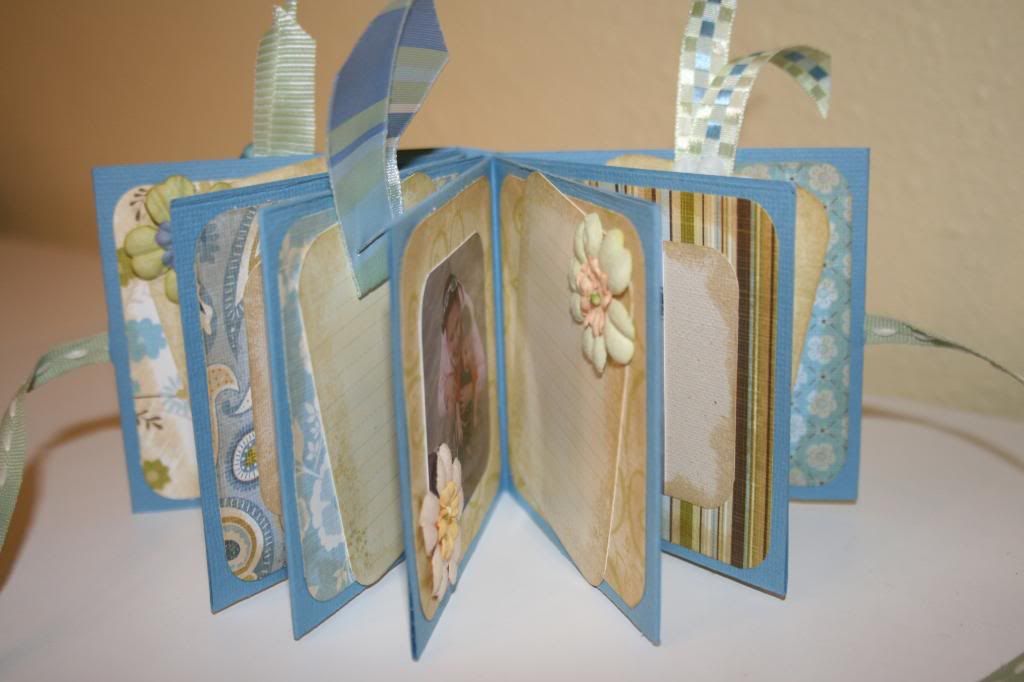 Have fun!!! Show me your book when you are done! Can't wait to see it! :D
***Sorry this is a day late. They are installing fiber optic something or other in Canby and our cable and internet went out Sunday morning. The upside of being without distractions for a day is that Andrew and I have decided to not watch TV or internet surf when we are both home. We've both been feeling a little ignored. We had a very nice night last night just talking and doing house stuff.
But, don't worry, I can still visit when he's at work! ;)