{{{{Whoopsie! I accidentally scheduled this one to go on December 4th...20
12
!!! Hee! }}}}
Hey guys! Welcome to Day 4 of
A Walk Down Memory Lane
's 12 Days of Christmas!
Today, I'll be sharing with you the gift my son is going to give his preschool teachers. They are cute, easy to make and hopefully, useful! I got some 3x5 acrylic photo holders at my local dollar store and turned them into free standing post it note holders!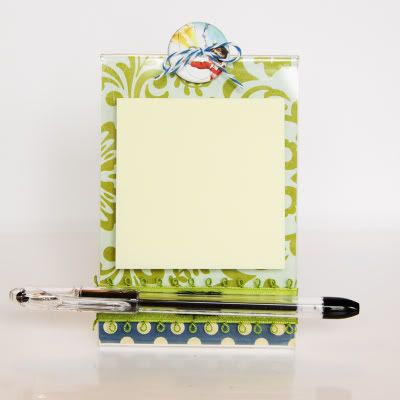 Here's a quick rundown of how you make these bad boys!
1-Cut a piece of paper to 3x5 (or whatever size your frame is) and adhere a coordinating scrap along the bottom.
2-Place it in the frame and adhere a piece of green ribbon on the outside of the frame, covering up the seam between the two papers and keeping the paper from slipping out of the frame.
3-Cut a small piece of black velcro and adhere to pen and frame.
4-Take the back sheet off your Post-it notes and glue it to the frame.
5-Tie a piece of twine through a chipboard button and adhere to the top of your frame and you are done!
6-Repeat the first five steps for as many teachers as you have on your list! ;)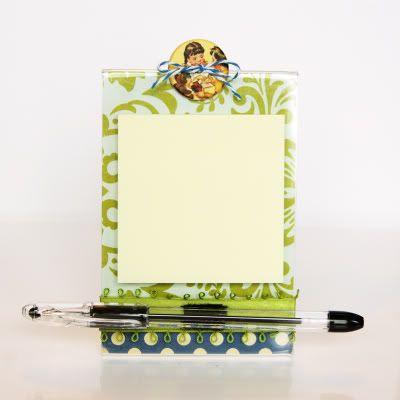 And now, for the part you've all been waiting for...ahem...lalalala!!!
On the fourth day of Christmas, A Walk Down Memory Lane gave to me.....
Basic Grey Card Class Kits
for only $10!!!
(Be very grateful that I don't have a clue how to work a video camera, or you might have actually had to listen to me sing that! LOL!)
Supplies used: Patterned Paper-October Afternoon (
blue dot
) & (
aqua & green damask
), Twine-
Divine Twine
, Chipboard-October Afternoon, Adhesive-
Fabritac
, Other-Ribbon, Velcro, Pen, Post-it note & frame

12 Days of Christmas fine print...Remember, you can place multiple orders in during the 12 Days of Christmas. You do need to check out each day though as the special prices will not be saved in your cart. If you order during the sale, they will combine the orders and the shipping costs (yay!) on the 13th after the sale is over.